"My rabbits hump each other!"
(even though they have the same sex, are neutered, hump the front)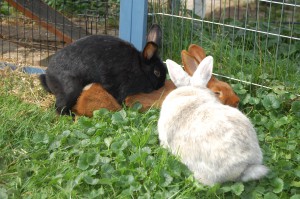 We receive many questions relating the topic "humping". Often the owner is worried about the rabbit, which is being humped, because the owner thinks the rabbit is disturbed or the owner is worried that (even though the rabbits are neutered) unwanted litter might be on the way.
Humping does not only serve the purpose of reproduction, but is a normal form of social behavior, over which rabbits communicate, respectively establish a hierarchy. The dominant rabbit humps the submissive one, or, if the hierarchy is not established yet and both want to dominate, they will hump each other. Here, they hump from behind and front. This behavior does not harm either rabbit and it should not be interrupted, otherwise the establishment of a hierarchy will be disrupted.
Especially female rabbits experiencing phantom pregnancies hump their partner extensively. Humping is neither abusive nor painful or harmful.
"My rabbit humps my hands, stuff, etc."
Unneutered bucks or bucks living in solitude develop – as a replacement behavior – the urge to hump the owner or their stuff; they hump out of sexual aggression.
These bucks must be neutered urgently and bonded with a suitable partner. Is the buck neutered already, there might be a third – undescended – testicle. A vet can diagnose and remove the remaining testicle.
In rare cases, despite the removal of all testicles, such a hormonal disbalance might occur. Then an underlying condition is the reason. The hormone levels can be measured in a blood work.